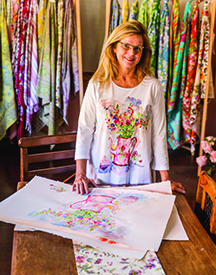 For over 40 years I've been traveling. From the silk road, beginning in the hypnotizing bazaars of Istanbul then crossing into the barren beauty of the Afghan mountains and eventually down the magnificent Himalayas into life-changing India. I was searching...looking for beauty and adventure in every corner. And I found it!
There it was, in the rug shops of Turkish vendors, and the dinner circles of covered Afghan women, in the house boats of Kashmiri hosts and the palaces of former Indian Maharajahs.
It was intoxicating—the color, the vitality, the art, the beating life of a world so removed from the Canadian suburbs of Montreal. I was addicted.
I have spent my career bringing this beauty home. And using my experience to create a palette for women, girls, craftspeople, and artisans. I believe we have a responsibility to stop and appreciate the roses, to sometimes paint them and even bring them into our home.
Every time I create I imagine these places fresh with their scents and sights. I also imagine you, craving color and compassion, inviting romance into your lives.
So here I am, an independent woman, creating for a multicultural world. A world that appreciates art and respects diversity, a world compelled to contribute and create, a world too beautiful to capture in a lifetime.
I want to encourage you, as friends, to really feel beautiful and appreciate your own personal beauty. And I want to ask you, as people, to live beautifully, give to those who are in need and present your light to the world. Lastly, be beautiful, because you already are.
Thank you so much,
April
---
The company
The April Cornell company embodies the sisterhood of beauty, style, love of nature, appreciation of friends and family, and the global community that we're so much a part of. Our world headquarters are based on the shores of Lake Champlain in Burlington Vermont, with offices in Montreal, and Cornell Overseas, based in New Delhi, India. The company contains the following divisions:
Design
Nature observed is nature served: the complexity of a garden rose or the trilling call of a bird in a bush. From vintage roses to the brilliant colors of the Indian Plum-headed Parakeet, the possibilities and inspirations are intriguing and varied and open new worlds of design to April and her talented team.
Licensing
Licensing extends April's designs to more categories and therefore to more consumers, bringing the brand's artistic conversation to every cup, plate, rug and wine glass in women's lives. Finding and connecting with the right partners is important—every partnership must be beneficial for each company. "As part of our licensing strategy, I want to make sure that we give every partner the time and attention that's needed," April says. And key partnerships between the licensees are one of the unique cornerstones of the April Cornell brand.
E-commerce
E-commerce has become the grassroots movement of retailing. Regardless of where you live in the world, through the internet you can access this beautiful expressive brand. The Web is also the center of our social media platforms – April's blog, Instagram and Pinterest pages, and April's Facebook.
Wholesale
The wholesale division is a segmentation of the April Cornell women and girls clothing and accessories targeted towards boutique stores. The emotional connection that April has with the consumer resonates in any venue.
Retail
April started as an artist and retailer 40 years ago. And the direct contact she has had with the customer has taught her how to shape and build her business. Today we have our flagship store in Burlington, Vermont which allows us to showcase the brand.
Manufacturing
Cornell Overseas offers vertical manufacturing, skilled implementation and interpretation of the April Cornell design vision, as a well as fullservice manufacturing for co-branded and private label opportunities world wide. April is directly involved in all the divisions, ensuring that the brand maintains its integrity and vision. In addition, April frequently shares her design knowledge and inventive ideas with women at events, seminars and conferences in North America. When speaking on topics like color, business, travel, and art, or how to create new holiday traditions, she often incorporates hands-on, how-to decorating tips into the presentation.
A gifted writer and a natural in front of the camera, April will pursue opportunities to share these talents with all media channels, including lifestyle and ladies' fashion magazines.
---
The Brand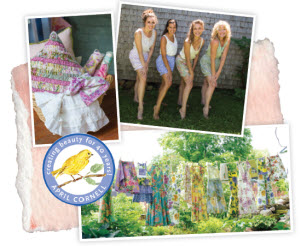 The colorful, feminine and complex style of April Cornell the artist has garnered her namesake brand a sizeable niche in the lifestyle marketplace.
The brand's success is largely due to April's innate ability to understand the details of women's lives, and to connect on an emotional level with them. April knows that women who enjoy her creations see themselves as independent, original thinkers whose lives are influenced by art and beauty. And beauty is at the heart of everything April designs.
With a keen eye for common values, April brings vintage to the 21st century, sub-continent color to middle America, the west coast to the east. The result is timeless —and always evolving—design that appeals to women who favor quality, tradition, luxury, detail and value.
---
The Customer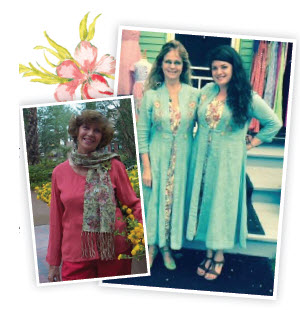 April Cornell customers share a passion for beautiful things that enhance and complement their lives. For them, shared emotions, passions, and interests are more important than being the same age or being alike. Our customers take comfort in and enjoy nature inspired beauty and have a warm artistic take on life.
The April Cornell customer is:
The 25-year-old Etsy artist who sells handmade messenger bags sewn from April Cornell Moda fabric.
The 64-year-old schoolteacher who just joined Facebook.
The 32-year-old mother of three who home schools her children.
The 52-year-old doctor who orchestrates a full-time practice and five children.
The April Cornell customer knows she can count on quality and good value that last as long as her favorite April Cornell tablecloth, with its sun-faded patina.
She can spend under $50 for a beautiful new blousethat will make her feel feminine and pretty without the worry of overspending on something personal. She understands that in order to care for others, she needs to nurture herself.